Copresco Installs Four Canon Digital Presses
Copresco has installed four Canon digital presses at its Carol Stream, Illinois plant.

"The Imagerunners provide superior image quality, better registration and a wider range of paper stocks for our clients' publications, books and manuals," says president Steve Johnson. "The presses offer the rugged durability required to handle the daily rigors of our high volume, fast turnaround shop. They allow us to maintain our guarantee that 250,000 impressions will be delivered the next business day for each customer."

Purchase of the digital presses follows a year of extensive testing and evaluation. The new systems replace Xerox Docutechs previously used by Copresco.

The Imagerunner (also known as Digimaster) was created by a joint research and development effort of Kodak, the world leader in imaging, and Heidelberg, the world leader in printing press manufacture. Canon, the international leader in laser technology, sells and services the equipment.

"Just as we have done for the Docutech, we are finding new ways to increase the quality and reliability of the Imagerunner," Johnson explained. "Our presses were delivered with several technological enhancements that few people even know exist. We are now beta testing additional refinements for Heidelberg to improve image quality and press performance. Copresco's continuing goal is to achieve perfection in all of our black and white and digital color operations."

Copresco specializes in digital on-demand printing of publications, books and manuals for clients in the general business, printing trade, technical and institutional fields.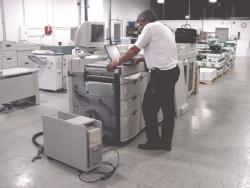 Press Release Library Read Previous Release Read Next Release
Home Contact What's New Publications Links