Copresco Shares Printing Awards with Four Winds Waldorf School
Students of Four Winds Waldorf School in Warrenville, Illinois received high marks-and unexpected rewards-from a Carol Stream digital printer.

Copresco president Steve Johnson shared plaques with the students and faculty members for an awards-winning yearbook project. Copresco was honored with the Achievement in Print Excellence Award from the Printing Industry of Illinois/Indiana Association and a Xerox Printing Innovation Award for producing the full-color book. The awards honor the highest achievements in printing.

The yearbook project combined a unique blend of design creativity with the benefits of on-demand digital printing technology. "Since Four Winds is not a typical public school, the yearbook had to showcase the creative spirit of the private educational institution," Johnson says. "And, because the book was created as a fundraiser, production cost control was essential."

Collaboration between the teacher who designed the yearbook and Copresco's digital color printing staff resulted in a final product that exceeded the quality of conventional yearbooks.

Four Winds students remained actively involved in the production phase throughout the project. "The kids all received A's from our staff. They became competent print buyers, selecting the paper stock and binding style. They also visited our plant on several occasions and even helped with the manual portion of the book binding process," Johnson explained.

"Sales of the yearbook exceeded 100% of the projected goal and fundraising results surpassed expectations, Johnson added. "Since additional copies could be cost-effectively reprinted on-demand, there was no need to overrun the initial print run-and therefore no waste."

The school's marketing department came up with another big benefit: the yearbook turns out to be a great marketing tool!

Copresco specializes in digital on-demand printing of publications, books and manuals for clients in the general business, printing trade, technical and institutional fields.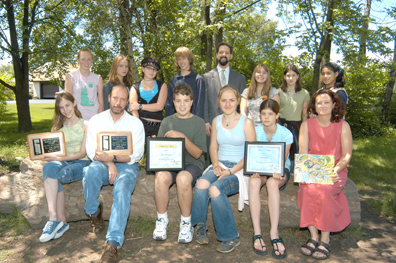 Copresco president Steve Johnson joins students and teachers of Four Winds Waldorf School for the presentation of plaques for the award-winning yearbook project. From left are (back row); Danielle Dement of Lemont; Daria Swedzikowski of Naperville; Grace Caldwell of South Elgin; Louis Arnold of Aurora; Johnson; Gina McDonald of Wheaton; Liz Lowrie of Warrenville; and Sabre Julian of Aurora; (front row): Kacey Tait of Naperville: teacher and yearbook designer John Keeney of West Chicago; Parks Payton of Glen Ellyn; Annalisa Maher of Montgomery; Ivy Dye of Wheaton; and teacher Tami Ordonez of Wheaton.

Students who participated in the yearbook project but are not pictured include Jack Dwyer, Wheaton; Tara Grosso, Roselle; Jeffrey Haugen, St Charles; Brian Maurer, Winfield; Colton Smoot-Nurre, Aurora; and Kellen Zoellner, Warrenville.
Press Release Library Read Previous Release Read Next Release
Home Contact What's New Publications Links