Two Achievement in Print Excellence Awards
Copresco has received two Achievement in Print Excellence Awards for digital color printing from the Printing Industry of Illinois/Indiana Association.

The Carol Stream, Illinois firm won a Best of Category Pinnacle award for a four-color calendar and an Award of Excellence for a full-color yearbook.

"The AIPX awards recognize the exceptional craftsmanship of the printing industry in our region," says N. Niall Power, president and CEO of the graphic arts trade association.

Copresco president Steve Johnson accepted the awards at a banquet held in Chicago. "We continue to raise the standards for our high-end digital color work through testing and quality assurance programs and the use of advanced color management techniques," Johnson said.

The medical calendar contains actual examples of ophthalmological cases. The photos of the eye had to be reproduced with exceptional accuracy and color rendition. This is the second straight year that Copresco has won a Pinnacle award for the calendar project.

The challenge of the yearbook project was to showcase the creative spirit of a private educational institution without the look and feel of a standard publication. Collaboration between the designer and Copresco's digital color printing staff resulted in a final product that far-surpassed the quality of conventional yearbooks.

Copresco specializes in digital on-demand printing of publications, books and manuals for clients in the general business, printing trade, technical and institutional fields.
| | | |
| --- | --- | --- |
| | Copresco president Steve Johnson receives the Best of Category Pinnacle award from Niall Power, president of the Printing Industry of Illinois/Indiana Association. | |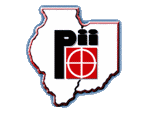 Press Release Library Read Previous Release Read Next Release
Home Contact What's New Publications Links