Comments?
Contact me directly.


Previous messages:
Wishing You A Timeless Holiday
How Do You Really Feel?
Work For The Best
The Spirit of the Season
Oh, no, a CEO!
Moral Authority
Quarter Million Copies
White Christmas
All Docutechs Are Not Equal IV
All Docutechs Are Not Equal III
All Docutechs Are Not Equal II
All Docutechs Are Not Equal
What A Difference A Year Makes
Happy Holidays
Business As Usual
Hi Mom!
Welcome To Copresco's Website
A Call To Action

In a recent magazine article I quoted the 1999 book, Flawed Advice and the Management Trap, by Harvard professor Chris Argyris, which addresses the problem of converting catchy slogans into tangible results. Argyris' premise, plain and simple, was that far too much popular wisdom simply is not actionable.

For my first message of 2005 I think it only appropriate to talk about action. In the first quarter many of us announce grandiose plans for the upcoming year. Great. Now, what are we going to do to make those plans come true?

Here's an oversimplified goal representative of much so-called strategic planning. Doubling sales over the next twelve months. Sounds terrific! Now, how? And by the way, will that mean double profits? Is that what you wanted to accomplish? Or do you really want to double market share? It will be tough to do both; which did you have in mind by doubling sales?

I think goal setting is terrific. Planning is a most worthwhile exercise, if followed through. Set those goals; make those plans, but while doing so make sure that your planning really includes the "how-to" of reaching your goals.

After laying out the step-by-step actions needed to convert your plans into reality, ask yourself, "Am I really willing to put forth the effort involved? Do I have the time? Will everyone else in the organization be as willing, or able? Will the final result, which sounds so good as a New Year's sound bite, even be worth the effort required?"

Sometimes we should throw practicality to the wind and reach for the sky. It is the job of top management to inspire the organization to achieve beyond its collective wildest dreams. Just remember that the root of the word leadership is: lead.

Sometimes the leader is that stellar performer who instinctively knows the best route to take. More often, the leader is nothing more than the guy with the map. As we plan our journey through the next twelve months, let's all remember to pack a map.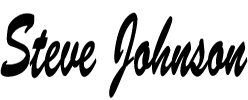 Steve Johnson, President
Copresco