Copresco Wins Three Technical Communications Awards
Copresco has won three awards for exceptional technical publications from the Society for Technical Communication, Chicago chapter.

The digital printer received Excellence Awards for "Seven Habits for Highly Successful Documents," a bulletin that provides guidelines for documents preparation, and "Saddle Binding for Digital Documents," which offers guidelines for planning effective saddle bound publications. "Internet Print Files Transmission," which discusses the advantages of File Transfer Protocol (FTP) files transfer, received an Award of Merit.

Copresco received high marks from communication competition judges for its proactive program to convey important information to customers and prospects in a professional and straightforward manner. Entries are judged on writing, graphics, copy editing and content. The Society for Technical Communication is an international organization dedicated to the advancing the arts and sciences of technical communication.

"Our TechTopics bulletin series is part of an extensive technical communications program," says Copresco president Steve Johnson. "Our goal is to keep customers and other professionals up-to-date with the latest advancements in digital technology and printing on-demand. This recognition from our peers is especially gratifying."

An award-winning writer and editor, Johnson is active as a consultant, speaker and author on a variety of communications topics for the Society of Technical Communication, the Digital Printing Council of the Printing Industries of America and industry trade publications.

Copresco, of Carol Stream, Ill., specializes in digital on-demand printing of publications, books and manuals for clients in the general business, printing trade, technical and institutional fields.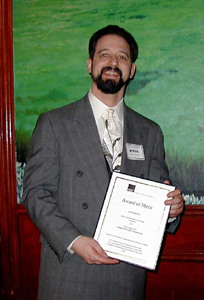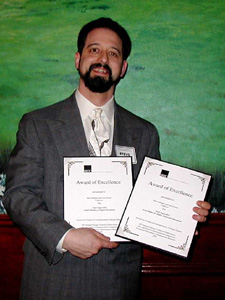 Copresco President Steve Johnson accepts his awards at the STC Banquet in Niles, Illinois.
(photos by Rebecca C Hall)
Press Release Library Read Previous Release Read Next Release
Home Contact What's New Publications Links