Copresco Wins Two Technical Communications Awards
Copresco has won two awards for exceptional technical writing from the Society for Technical Communication, Chicago chapter.

The Chicago area digital printer was honored with an Award of Excellence for an article written by company president and CEO Steve Johnson for the forecast issue of PIA Magazine, a monthly publication of the Printing Industries of America.

Johnson allays the fears many printers have that Web-based media will destroy print as a primary communications medium. He sees the "Web 2.0," also known as the "Social Internet," offering enormous databases of text, video and graphics that can be turned into digitally printed and bound books.

Color picture books are a prime example, he noted. "Social networking site Flickr offers free image hosting but charges for layout, imposition, digital printing and binding of those images. Web-savvy consumers expect online services to be free of charge, but perceive print services to be of higher values and are willing to pay for them."

Johnson's article on Digital Presses Run the (Color) Gamut received an Award of Merit. He described gamut as the range of color that a press can reproduce and the differences between offset and digital processes. Copresco's digital presses have a wider color gamut than offset systems, a critical advantage in printing high-quality color publications.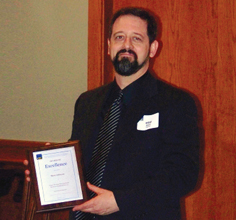 Steve Johnson receives the prestigious STC Award of Excellence.
The Society for Technical Communication (STC) is an international organization dedicated to advancing the arts and sciences of technical communication.

Copresco specializes in digital on-demand printing of publications, books and manuals for clients in the general business, printing trade, technical and institutional fields.
Press Release Library Read Previous Release Read Next Release
Home Contact What's New Publications Links