Copresco Collects 13,000 Box Tops for Education Fundraiser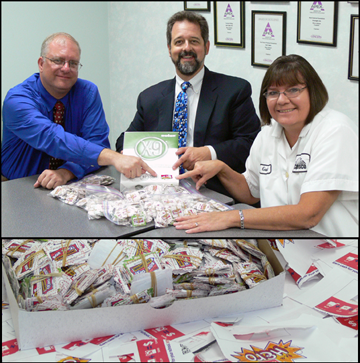 Michael LaFranzo of Carmel Montessori School, Copresco president Steve Johnson, and digital press operator Gail Oberhart show off a stack of the 13,000 coupons collected for the Box Tops for Education program.(photos by Jessica Pinkous)
Copresco has taken coupon clipping to new heights through a Box Tops for Education fundraising project.
Led by digital press operator Gail Oberhart, employees clipped 13,000 Box Top coupons from reams of Boise paper. The coupons, worth $1300, were donated to Carmel Montessori School in Warrenville and Central Elementary School in Plainfield. Two of Copresco President Steve Johnson's children attended Carmel. Gail has a grandchild in Central.

Box Tops for Education has contributed over $525 million to participating schools since the launch of the program in 1996. The program has been highly successful in helping schools realize their dreams despite cutbacks and tough economic challenges.

Copresco uses tons on paper in the production of millions of pages of publications, books and manuals for clients in the general business, printing trade, technical and institutional fields. The company is headquartered in the Chicago area.
Press Release Library Read Previous Release Read Next Release
Home Contact What's New Publications Links