Excellent Way to Organize Books and Manuals
---
In our January Overnight Lite, we discussed the flexibility, durability and economy of looseleaf binding.
A major organizational advantage of this binding style is that the pages of your publication can be easily removed, changed and inserted back into the binder.
This month we'll talk about the most common method of keeping your looseleaf publications together: ring binders.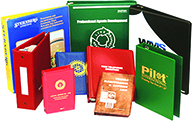 Kids Stuff
Call it looseleaf, three-ring or notebook style, you have probably been keeping loose papers in three-ring notebooks since you were in grade school. Any youngster can tell you about their advantages.


Ring Binders
Ring binders are an often overlooked, but excellent method for organizing sales materials, manuals and catalogs or looseleaf pages that require periodic revisions.
Look around your home or office and you will probably find a three-ring binder sitting on a desk or in your bookshelf.
Endless Applications
Wide ranging applications include instructions, educational materials, membership directories, training manuals, legal books, workbooks, price books and directories as well as employee handbooks, legal documents and presentations.
And, don't forget that well-used binder in your kitchen packed with those delicious recipes.
Easy to Update
Will page 51 of your project need to be revised next month? That is a pesky problem for most bound books, but with a looseleaf binder you simply open the rings and replace the old page with the new version.
Imprinting on the spine will help users locate the piece on a bookshelf.
Except for a corner stapled piece, looseleaf books cost less than just about any other binding style.
Vinyl Or Polyethylene
Ring binders made of vinyl or polyethylene will cover and protect your materials better than just about any other binding method. Both styles are offered in a selection of colors.
Special options include foil stamping, embossing, silk screening and full color processing.
Polyethylene binders are light-weight, flexible and extremely durable. Poly binders may be silk screened in from one to four colors.
Clearview
Clearview binders allow you to customize your presentation with your own printed pages that are inserted into the transparent vinyl sleeves on the front, spine and back of the binder.


Turned Edge
Turned edge binders are the most durable members of the binder spectrum. They are available in a large selection of covering materials, colors and finishes. Like their vinyl brethren, they can be foil stamped, embossed, silk screened or produced in full color.
Sizes
Standard binders hold 5-1/2" x 8-1/2" and 8-1/2 x 11" pages. Three-ring binders dominate the field.
O-ring and D-ring sizes may range from 1/2" to 5". D-rings hold more pages and allow the pages to lie flat in the binder.
Index Tabs
Indexing is a highly effective tool for organizing documents and making them user-friendly.
Copresco runs hundreds of thousands of index tabs in various sizes and styles…plain or with clear or colored Mylar reinforcing.
We stock index sheets on the floor, but also offer a variety of paper stock colors and weights.
Shrinkwrapping
Finished projects can be inserted into your binders and shrinkwrapped for easy handling and shipping in Copresco's upgraded shrinkwrapping department.
Be Sure to Call
Meanwhile, when you need help with your binders as well as books and publications, call the company that can answer your questions and deliver, fast top-notch digital on-demand printing.
Call Copresco.
---