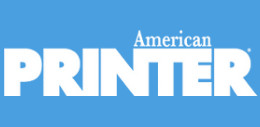 History lessons
March 1, 2007
Johnson's World by Steve Johnson
If this story sounds sentimental or nostalgic, you don't know me very well. In "Johnson's World," fond memories take a back seat to the lessons of the past, which those who don't learn are doomed to repeat.
Copy wars
Come with me now to 1987. Desktop publishing was the buzzword. Personal computers had entered some print shops, but still were a novelty. The PC and Mac were somewhat novel, themselves.
Toner on paper meant high-speed copiers. The closest thing to digital printing was outputting "originals" on an Apple LaserWriter. Resolution was laughable by today's standards.
Plain-paper laser output could be shot on film for stripping and platemaking, or in an Itek camera by a "quick" printer with an AB Dick 360 duplicator. Direct-image "paper" plates had been superseded by polyester material, lifting direct image quality—not up to commercial standards, but acceptable and very inexpensive. Price, even more than quality, was the barrier keeping the high-speed copier folks out of the graphic arts arena.
Copier giant Xerox tried to make inroads into the "print-for-pay" market (Xerox's name for you and me). Xerox was having tough times, though, with Japanese manufacturers applying pressure, and neighbor Kodak in the high-volume market.
Xerox's top-secret product, later named "DocuTech," was three years from market, and many doubted it would ever see the light of day. Xerox wouldn't talk to little old me about it. I now know Xerox's sales force knew less about the DocuTech than I did. The Kodak folks had a bit more to say.
Digital inroads
Kodak had been peddling copiers for a decade, cleverly playing off its stellar reputation for quality in film. Kodak had two revolutionary concepts to sell, but no idea of their true value.
First was the recirculating document feeder, called RDF in an industry second only to the military in its love for acronyms. The RDF sat atop the copier's glass. To copy a 50-page report, the operator put a job into the RDF, which would pull the last original from the bottom of the pile, automatically position it on the glass, make a copy, throw the original back on top of the stack, then repeat the process for every page at nearly two pages per second.
Need 50 sets? The Kodak machine repeated the above process 50 times. Your originals looked like they'd been through a war zone, but you had your copies, neatly collated and stitched inline, to boot. Xerox machines still used enormous collating towers and lacked inline stitching.
For the first time, printing could occur in page order for the convenience of the end-user, instead of in spreads or signatures for the convenience of the press. This was the first step in the thousand-mile journey that led to variable-data printing.
This was such a common-sense, practical idea that Xerox, IBM and others followed suit. Today's digital scanners use autofeeding mechanisms that hearken back to the RDF. It was, in short, a Kodak moment. (I couldn't resist that one.)
Kodak was proud of its innovation, but confused enthusiasm for the concept with support for the machine. The RDF was downright clunky, but it was tolerated because inline "electronic" collation was so desirable. I'm thankful Kodak's feeder was such a dog—for once, printing in page order became a requirement. A better way had to be found. That better way was (and is) digital printing.
Secondly, Kodak planned something it called "1392," later "Lionheart." It was to be a copier with a laser beam instead of a strobe light. It would print from a personal computer, as the Apple LaserWriter could, but at high speeds and volumes—and with Kodak quality.
In 1987, this should have been big stuff for commercial print. It wasn't.
Kodak showed no interest in selling to commercial printers (who had no interest in buying) or to quick printers (who didn't want to spend the money). Kodak marketed its technology to corporations as big, walk-up office copiers. Internal reports and interoffice memos were the products, and bloated bureaucracies were told they could generate even more paperwork. Oh, boy.
I approached Kodak about making books. I received blank looks in return. Only when I spoke of printing millions of pages on their machinery did they decide I was truly crazy.
Again, the Kodak folks confused concept with appearances. Many think time has proven I am truly crazy. Could be, but certainly not for producing massive volumes of high-quality printing on digital equipment.