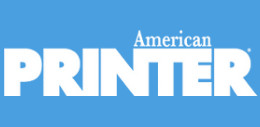 Root, root, root for the home team
May 1, 2010
Johnson's World by Steve Johnson
Mandolin virtuoso and folk humorist Jethro Burns once explained, "I moved to Chicago because I wanted to live someplace with professional baseball. I may leave for the same reason."
I make my home among people who cheer wildly for their major league team and boo just as loudly for that other ballclub across town. Each side is fanatically loyal — for no really good reason — to its favorite team. That's OK. Fanaticism, by definition, isn't rational.
Spectator sports afford fans an escape from reality. An afternoon at the ballpark is like a day at the beach, right down to the overpriced hotdogs. Heck, when Michael Barrett was behind the plate, Cubs fans were treated to action usually reserved for hockey games and rowdy wedding receptions.
Digital printing is not an escape. It is serious business, and it comes with hidden issues never dreamt of by battle-hardened lithographers.
Adding digital presses to your lineup? Emulate broadcaster Harry Caray. Remembered nationally as the Cubs announcer, he was also famous as an ardent consumer and promoter of Budweiser and for his lusty (if tonedeaf) renditions of "Take Me Out to the Ballgame" during every seventh inning stretch.
Harry was a master promoter, which is why he is immortalized in bronze right at Wrigley Field, while the bronze of another legendary Cubs announcer, Jack Brickhouse, stands on Michigan Ave. next to the Tribune Tower.
Harry followed the money. An enthusiastic fan wherever he went, he made plenty of money and had fun doing so. Before the Cubs, Harry broadcast St. Louis Cardinals games, then moved on to the Chicago White Sox, even as he switched his beer endorsements to Falstaff, then to Stroh's.
Loyalty vs. reality
Are you a fourthgeneration fan? Bless your loyalty. Are you a fourthgeneration printer? When it comes to digital, we are all new to the game, so we'd better choose our team with care.
Past generations were fans of players who spent entire careers with their teams. Free agency changed that; players now follow the money from team to team.
Heidelberg has built a fan base as strong and almost as old as the Cubs or Yankees. When Heidelberg unveiled its digital press lineup, fans entering the digital market loyally purchased NexPresses and DigiMasters. Sometimes loyalty was an excuse for not conducting thorough due diligence.
Heidelberg's digital equipment was Kodak designed, engineered, manufactured and serviced. Only the name was Heidelberg Digital, and even that is gone.
Don't get me wrong. I own quite a few of these Kodak machines myself. The point is that past experience with presses designed and built in Heidelberg, Germany, provided no valid clues — good or bad — as to how the American-made digital presses would perform.
One reason I can't get excited about American League teams is the designated hitter rule: one position; different players on the mound and at the plate.
Is Xerox tantalizing you with the iGen4? The iGen is a tribute to American research and engineering, but it comes with a hefty price tag befitting its size and weight. Worried you might not be ready for that much digital press? Xerox will propose to open the inning with a designated hitter.
They'll likely suggest the DocuColor line, strong hitters with good averages, and less costly than iGen. Later, you can trade up.
That might be a solid game plan. Xerox even has a new production color press with a cabinet designed to make it look like a little iGen.
It isn't. The mighty iGen is the only color press Xerox has ever actually made. The other color products are designed and engineered half a world away in Japan, by Fuji. There's nothing wrong with this; I've owned several.
Just remember, if you move up to an iGen later, you'll have a new color gamut, new toners, new productivity tricks and new shortcuts to learn. It's just like switching vendors.
Xerox is only an example. The reseller agreements being contracted (and terminated) between digital vendors is mind numbing. Always ask who really makes the machine you are planning to buy.
Keep your eye on the ball
Have you ever noticed that aging players often want to be traded to Los Angeles? Warm sunny beaches seem so inviting.
Put out the word that you are seriously planning to purchase some big digital iron. Xerox and Kodak will step up to the plate with dog and pony shows at their respective demo centers in Rochester, NY, the cloudiest city in the nation. Ah, but Océ will offer to transport you to its U.S. headquarters in tropical Boca Raton on Florida's Atlantic coast.
So, from whom will you buy your next digital press? The vendor whose equipment is best suited to meeting your customers' needs, of course. Follow the money. When you maximize your profits, you can afford to pay for your own escape to any destination you desire.