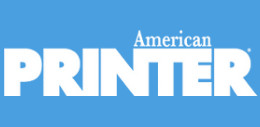 Who's a printer?
February 1, 2010
Johnson's World by Steve Johnson
I've noted in the past that U.S. Commerce Department statistics and NAPL surveys indicate print total volume is declining, as is the total number of printing establishments. I've also noted that our government does an abysmal job of measuring print, using metrics that are nearing half a century in age. Economists in the employ of printing trade associations are no better.
I've further observed that these toxic statistics disguise a thriving print market powered by non-traditional providers, who don't know or care whether or not they are in the printing business.
When I entered the digital arena, few understood what I was doing. This changed, over time, to, "That's not real printing!" followed by, "You're the future of print." Now I'm mainstream, and I write for a 127-year old printing magazine.
Other processes, including offset lithography, have been excluded from the umbrella of print in the past. With print's 500-year monopoly on serious communications drawing to a close, we can no longer afford to exclude anyone from our little club. All who have a stake in print of any sort belong together, promoting our collective medium as we educate the public.
So just who is a printer?
Permit me to introduce you to some people.
Lisa Savegnago and my wife have been friends for decades, but I'd never met Lisa's husband, Randy Johnson (no relation), until recently. At a charity event where I was serving as master of ceremonies, Randy introduced himself to me.
"I read you every month in AMERICAN PRINTER," he said. Wow!
"I didn't realize you were a printer," I replied. "Where do you work?"
He told me he worked for Nameplate Technology, and looked surprised that I didn't know that. Fact is, I did know that. Nameplate & Panel Technology (http://www.nptec.com/) is his father-in-law's business. It wasn't that I didn't know he worked there; it was just that I never thought of it as a printing company. Shame on me.
The company specializes in control panel interface overlays, aluminum labels, industrial signage and switch panels. If that is not specialized enough, they also have a tightly focused market niche in outdoor horticultural signage. Processes include silk screening, metal etching and a specialized photographic process of imaging on aluminum. Not much ink-on-paper going on here.
Is Nameplate & Panel Technology a printer?
Randy thinks so. After all, he reads AMERICAN PRINTER, the leading trade magazine for commercial printers.
Another friend, Lisa Howard, takes dance lessons from my wife, and our sons play bass in the same orchestra. Lisa and her husband Chuck own a small business.
"I'm a printer, too," he told me, with a wry grin, after I answered his query about what I do for a living. "I print on T-shirts," he added. His self-deprecating smile belies a thriving business customizing apparel via silk screening, heat transfer and embroidery processes. MonoLisaGram (http://www.monolisagram.com/) is a manufacturer of personalized textile products that focuses on corporate identity and marketing.
Is MonoLisaGram a printer?
Chuck says so. MonoLisaGram takes customer digital images and emblazons them on various substrates. A printer takes raw materials (paper, plastic, fabric or metal) and adds an image. The finished product is far more valuable than the sum of the cost of the imaging process and the substrate. I would further contend that print is the only medium to do so, and that all media doing so are print.
MonoLisaGram adds further value to the equation by offering fast turnaround and by cleaning up and repairing client digital files prior to printing. Still don't think they are printers? Their clients know they are, so MonoLisaGram offers forms and business printing, which are farmed out to conventional trade printers. Advertising specialty products also are outsourced.
Welcome to the club
The majority of those who put ink on paper will steadfastly argue that neither of the above companies are "real" printers. I find this country club mentality fascinating, as so many of you "real" printers out there are trying to figure out how to not be perceived as printers, but rather as "marketing service providers."
Do you really think prospective clients care whether or not you are a "printer" or a "marketing service provider"?
Lisa Savegnago and Lisa Howard are both at the helm of companies providing crucial and specialized products and services to their customers.
Isn't that what we all should concentrate on doing?
Feeling sociable?
Steve Johnson's Twitter handle is copresco. Follow him to receive a daily (but not overwhelming) dose of printing and publishing news that has been overlooked by everyone else, combined with wry wit and interesting, useful links. Marvel as Steve compresses his famous Johnsonian verbosity into 140 characters or less per tweet.