One of the first C9100s in the nation...
Copresco's Superb Digital Color King of the Hill
---
Copresco is one of the first printers in the country to install a Ricoh Pro C9100 color press.
Dazzling Combination
"This highly advanced system— supported by our technical skills— combines the firepower and superb image quality that keeps Copresco the King of the Hill in digital on-demand printing," says Copresco President Steve Johnson.
Rugged and Speedy
"The press gives us the rugged durability and 110-page-per-minute speed to meet our high-volume, fast turnaround demands for your books and publications."
And There's More
Copresco can now print sheets up to 27 1/2" long, which is a major achievement for high-volume printing.
These oblong sheets are perfect for book covers, dust jackets and six-page brochures.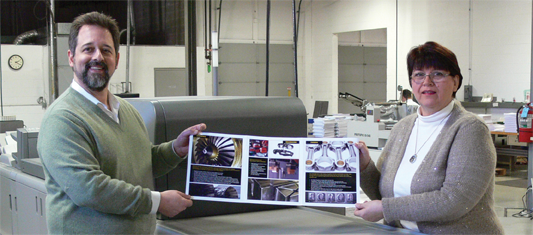 Copresco President Steve Johnson and Production Manager Lynn Buck
show off a 27 1/2" product bulletin printed on the color press.(Photo by Jessica Pinkous)
Immediate Interest
"We are amazed by the interest our clients have shown in the large sheet size. The first project we ran was a 27" technical piece that we could not have produced without this system," Steve added.
A Perfect App
Another major application is your book covers. As we have said before, "you shouldn't judge a book by its cover, but we know that everyone does it."
Copresco's Commitment
"That's why Copresco is fully committed to producing beautiful covers for our clients' projects. Even educational, scientific and technical materials benefit from enticing covers. A beautiful cover commands your attention and says, 'Open Me,'" Steve explained.
Still More to Come
Copresco has work to do. "The excellent image quality of the C9100 gives us a perfect platform to tweak and make further technical refinements that will take the new press to an even higher level of laser color printing superiority."
So, for all of your digital printing needs, call the industry leader.
Call Copresco.
---
Color Sells
If you're working on a new book or a sales piece, seriously consider the use of full color.
Color adds class, distinction and readability to any publication.
With our new digital press, Copresco offers you even more award-winning digital color and faster turnaround.
Paper for All Occasions
You can select from a wide range of text and cover weights and coated or uncoated papers.
Copresco will put the finishing touches on your project in our full-service bindery.
---
Ricoh VIP Visit
A team from Ricoh's Tokyo, Japan headquarters made a special visit to Copresco to see how we were using our brand-new C9100 digital color press.

Steve Johnson welcomes our Ricoh visitors (l. to r.) Dean Schlais, Daichi Iwashita,
Jana Tarazi and Kyosuke Oshima. (Photo by Jessica Pinkous)
A Look to the Future
Our guests were also interested in what products Copresco would like to see in the future.
A tour of Copresco's offices and production facilities followed.
---
Overnight Lite Main Last Month Next Month

Home Contact Us What's New Publications
Copyright © 2016 by Copresco All rights reserved.