The best of both worlds...
Wraparound Covers for Books That Need to Lay Flat
In last month's Overnight Lite we extolled the virtues of mechanical binding styles, such as double loop wire binding and plastic coil binding.
Their advantages are many, but the most important is their ability to lay completely flat for easy reference.
Diversified Applications
Cookbooks, workbooks, repair manuals, complex diagrams, and quick reference guides are just a few of the products that need to lay flat, because readers usually have both hands full while consulting them.
Juggling Act
If you've ever tried to hold an instruction manual or cookbook open with your elbow while trying to per-form a task needing both hands, you know how annoying the wrong binding style can be! In such cases lay flat is an important feature.
Now Copresco offers an interesting enhancement for the double-loop binding style: wraparound covers.
With this binding method, you can print on the front, back and the spine of the book cover.
Taking Charge
Wraparound covers (as are commonly found on softcover adhesive bound books) mean that your book or manual can have a spine, making it easy to identify and retrieve on a bookshelf or in the middle of a stack of books or papers.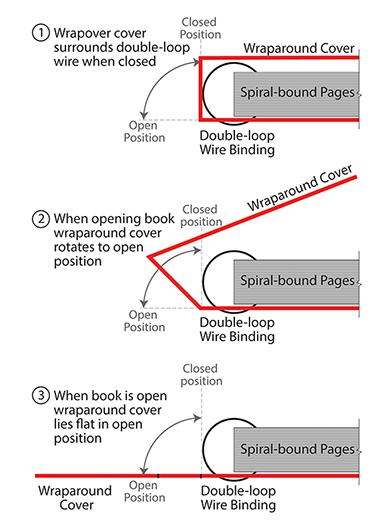 Lost in the Crowd
Books without a spine simply disappear once put on a shelf.
In previous issues of Overnight Lite we've detailed actual studies that prove a spine adds to the perception of value and importance.
Wraparound covers with imprinted spines provide functionality, longevity and aesthetic qualities for your books and publications.
A Better Way
Perfect bound (softcover) and case-bound (hardcover) cookbooks look attractive on a kitchen shelf, but are utterly impractical to use while preparing a meal. Copresco has a better way.
Easy to Spot
Printing on the spine makes your book stand out on the bookshelf and provides another creative dimension of professional craftsmanship.
Still having trouble visualizing this concept? Visit Copresco's YouTube channel or the Overnight Lite page on our website for a video showing examples of this unusual yet eminently practical binding style.
So, when you need a book, manual, or publication that is both attractive and practical, as beautiful as it is user-friendly, call the company that has all the answers.
Call Copresco.
---
Have It Your Way
Copresco clients, how do you prefer to receive your invoices? By U.S. Mail?Or via Email?
What's Best
We know that prompt billing is important to you, and we want you to receive your invoices from Copresco by whatever delivery method works best for you.
Copresco vendors, how do you prefer to receive your payments? Check? Automated Clearinghouse (ACH)?
Our Commitment
Copresco demands prompt service from our vendors, and in return we're committed to paying you quickly and by whatever means you prefer.