Digital, short-run cookbooks...
A Dandy Recipe for Business or Fundraising Success
---
Looking for a way to preserve your treasured recipes or raise funds for a favorite charity? Cookbooks are a tasty solution.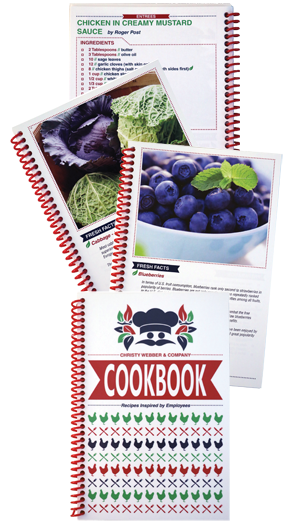 The Art of Cooking
Americans love cooking and savor their skills in the kitchen.
Some 400,000 wannabe chefs watch the Food Network during the day to get menu ideas, preparation tips and cooking instructions. The food section is a popular hot spot in local public libraries.
Ancient Times
Collecting recipes is a time-honored tradition, dating back to a 1500 BC clay tablet found in Babylon, that contains recipes for sumptuous meals. Ancient Greeks and Romans served exquisite dishes while entertaining their guests, and kept records of their tantalizing recipes.
The Digital Solution
Like many pioneering endeavors, the printing press revolutionized the culinary arts by making cookbooks accessible to common people. An Italian, Bartolema Scappi, produced the first volume in 1485.
Revolutionary Development
Digital on-demand printing offers major advantages for the production of cookbooks, whether you're planning to save treasured recipes for the family, self-publish for profit or raise funds for your church or favorite charity.
Or you may simply be looking for a unique birthday or holiday gift for your friends or business associates.
Cookbooks with recipes inspired by coworkers help businesses connect with their employees' families, neighbors and the community at large.
Endless Opps
Cookbooks offer endless opportunities for culinary creativity, with recipes for everything from delectable appetizers to mouthwatering desserts. (Photos by Jessica Pinkous)
Quick and Easy
Copresco's short-run workflow is the way to get your culinary creation produced quickly and economically. A broad range of coated and uncoated paper stocks in text and cover weights is available for your project.
Color Sells
Full color adds vitality and luster to any publication.
Enticing color photos of recipe ingredients and gala finished presentations will add senses-stirring visual impact.
Copresco can also seamlessly integrate color pages with black & white pages. For strength, durability and added panache we'll laminate the covers of your masterpiece.
Binding Versatility
Binding alternatives for cookbooks have made a long journey since your grandmother's day.
Cookbooks which can be doubled over or lie flat with open pages for easy referencing are most popular with today's cooking enthusiasts.
Nice Options
Copresco's plastic coil and double-loop wire are highly recommended.
Plastic comb (GBC) bindings work well for thick books that can still lie flat. Potential printing on the spine of the binding is another benefit.
Looseleaf Benefits
With looseleaf binding, you can add, subtract or edit recipe pages with ease.
For example, you could send blank pages to family members or other contributors and have them send back their favorite recipes to be included in your cookbook.
Ring binders are available in a wide variety of sizes, styles and colors.
Saddle stitched or perfect bound volumes are offered as well.
Index Tabs
Don't forget to consider index tab dividers to help organize your cookbook and make it more user-friendly.
Copresco has tabs in various sizes and styles, plain or with clear or colored mylar reinforcing.
Printing on the body of the index tab divider will increase the overall graphic appeal and reader interest for the whole book. We can also print the tabs in full-color to add further pizzazz.
Multiple Choice
Cookbooks are just plain fun. They are a great repository of your cherished recipes for your family, business and friends.
They provide a wonderful way to draw on the resources of your church, club or organization to raise funds for charitable work.
Finally, if you create a good-looking, informative piece, your cookbook may turn a very nice profit for you.
Call Us Today...
So, when you have a black & white technical bulletin or a spiffy full color brochure ready to print, make sure that you call the digital on-demand printing leader. Call Copresco.
Your Best Bet
So, when you need help with a cookbook or any book or publication, call the national leader. Call Copresco.
You'll find that we have a special recipe for your success. Bon Appetit!
---
Overnight Lite Main Last Month Next Month

Home Contact Us What's New Publications
Copyright © 2016 by Copresco All rights reserved.