Comments?
Contact me directly.


Previous messages:
Work For The Best
The Spirit of the Season
Oh, no, a CEO!
Moral Authority
Quarter Million Copies
White Christmas
All Docutechs Are Not Equal IV
All Docutechs Are Not Equal III
All Docutechs Are Not Equal II
All Docutechs Are Not Equal
What A Difference A Year Makes
Happy Holidays
Business As Usual
Hi Mom!
Welcome To Copresco's Website
How Do You Really Feel?

My granddaughter Kali knows what she wants, and she isn't afraid to let us know how she feels. As she approaches her "terrible twos" she is becoming more vocal about her opinions. If she is anything like the rest of my family, she will only become more vocal as time goes by.

I'd like to ask you to become more vocal. As the president of Copresco, I sometimes feel as though I'm sitting in an ivory tower. Hard as I try to get out in front of you, my customer, I often find myself bogged down with administrative and financial matters. These are part of my job, true, but without input from you, the rest is just academic.

If you could change one thing about Copresco, what would it be? Is there a service that Copresco should be offering, but doesn't? Do we perform for you in some areas, but fall short in others? Are we slipping in areas that Copresco used to handle with ease?

Are you satisfied with Copresco? No matter how much you love us, there is always room for improvement. And we want to improve.

What if, horror of horrors, you are not using Copresco? Tell me why not. What can we do to earn your business? Even if you don't intend to use Copresco, tell us what we did to make you feel that way.

I'm always working to improve Copresco. Trouble is, without your input and feedback, I may be working on the wrong thing.

Many years ago, we spent a lot of time and effort to find the perfect packing material. We wanted to make sure that your printing arrived in flawless condition. After much research and testing we determined that styrofoam packing peanuts did the very best job.

Your reaction? Get rid of those darn packing peanuts!! We learned that styrofoam peanuts are incredibly annoying when a box is opened, and that our customers were more concerned about quality and on-time delivery than about packing material. I learned that day never to make changes without asking you first.

So I'm asking. One sentence, or ten pages. Email me your comments. Or phone or fax or mail. Have a lot to say? Contact my assistant to schedule a lunch date. I'm buying.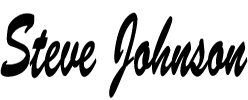 Steve Johnson, President
Copresco