When The Sun Comes Up, Copresco Is Running For You
Anybody can print fancy colors. (Well, almost anybody.) Here at Copresco we have walls,shelves and racks filled with awards for superlative print quality. Yes, that is important, but beyond pretty pictures, how far will your printer go for you?

Here's a story I told to my children when they were young. Now that they are older, I still repeat it to them, for the lesson is more important than ever.


Every morning in Africa, a lioness awakens.
She knows that today she must run faster than the slowest antelope,
or she and her entire pride will starve to death!

Every morning in Africa, an antelope also awakens.
He knows that today he must outrun the fastest lion,
or he will be eaten!

The moral of our story is simple.
It doesn't really matter if you are the lion or the antelope.
When the sun comes up, you'd better be running!

Big company, small company, it doesn't really matter. What matters is that Copresco goes the extra mile, in fact, thousands of extra miles, for we deliver hot rush projects all over the country, every day, next day. Call Copresco at 5 am or 5 pm. We'll be running.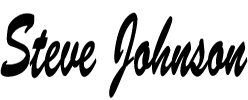 Steve Johnson, President
Copresco