The Perfect Solution is Perfect Binding
The late industry expert Dick Gorelick once conducted a study of the impact of binding on the way users perceive value.

The Gorelick study was magnificent in its simplicity. He examined two monthly magazines, National Geographic and Smithsonian. These two publications were perceived by readers to both be of very high editorial quality, and treat upon similar subject matter. Reader demographics are similar.

Since almost everything about these magazines seems equal, it is surprising to find out what readers do with old issues.

Old copies of National Geographic, a perfect bound publication; are frequently found in garage sales, basements, and libraries. As for Smithsonian, a saddle-stitched booklet, readers throw the magazine away with impunity after reading it.

Yes, the only difference is binding. Readers, who pay a good buck to subscribe to both magazines, view the adhesive bound National Geographic as a book, to be saved, shelved and shown off. The stapled Smithsonian is perceived as a booklet, meaning it is to be perused and then discarded. The only difference is the use of stitch wire instead of glue for binding.

And what a difference that makes! This simple choice in the binding of your publication, technical newsletter or catalog, makes the difference between your piece being discarded the day after it is received, or kept on a shelf for easy retrieval and future reference.

You would expect to pay more for such a benefit, and you will, unless you use Copresco for your printing and binding. In many cases, perfect binding at Copresco is often less expensive than less elegant binding methods. You can have your cake and eat it too.

After all, what good is cake if you can't eat it?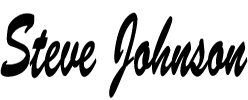 Steve Johnson, President
Copresco